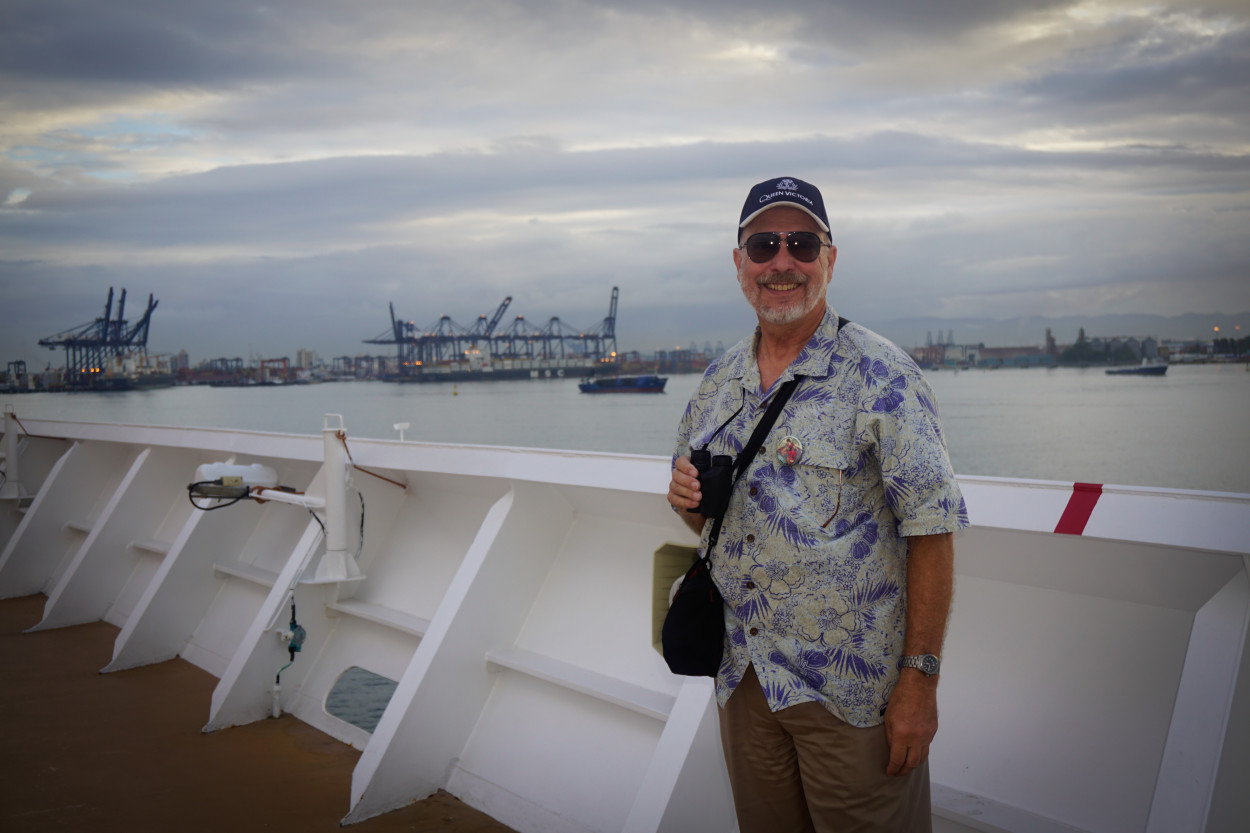 These are audio clips for the north-bound transit of the Panama Canal (From the Pacific to Caribbean).
Note: The recorded files are in the MP3 format (16 bit, 128K, mono). WAV files (24 bit, stereo, DVD quality) are also available upon request but are approximately ten times larger (2MB MP3 vs 20 MB WAV).
If you have a model release for these clips please feel free to use them in commercial applications. If not, please make arrangements through this web site.
(Click on Zipped File to download, or play button to listen to the clip)
---
---
1. Entrance to Canal
Zipped MP3 File: 1_Entrance to Canal
Player Version:
---
2. The Pilots Come Aboard
Zipped File: 2_Pilot Comes Aboard
Player Version:
---
3. South End of the Canal
Zipped File: 3_South End of Canal
Player Version:
---
4. Bridge of the Americas
Zipped File: 4_Bridge of the Americas
Player Version:
---
5. Balboa
Zipped File: 5_Balboa
Player Version:
---
6. Third Lane Construction
Zipped File: 6_Third Lane Construction
Player Version:
---
7. Mirafloras Locks and Visitor Center
Zipped File: 7_Mirafloras Locks and Visitor Center
Player Version:
---
8. Mirafloras Lake
Zipped File: 8_Mirafloras Lake
Player Version:
---
9. Pedro Miguel Locks
Zipped File: 9_Pedro Miguel Locks
Player Version:
---
10. Centennial Bridge
Zipped File: 10_Centennial Bridge
Player Version:
---
11. Culebra Cut
Zipped File: 11_Culebra Cut
Player Version:
---
12. Gamboa
Zipped File: 12_Gamboa
Player Version:
---
13. Barro Colorado Island STRI
Zipped File: 13_Barro Colorado Island STRI
Player Version:
---
14. Lake Gatun
Zipped File: 14_Lake Gatun
Player Version:
---
15. Gatun Anchorage and Third Lane
Zipped File: 15_Gatun Anchorage and Third Lane
Player Version:
---
16. Gatun Locks
Zipped File: 16_Gatun Locks
Player Version:
---
17. Channel Out to the Bay
Zipped File: 17_Channel Out to the Bay
Player Version:
---
18. Limon Bay to Breakwater
Zipped File: 18_Limon Bay to Breakwater
Player Version:
---