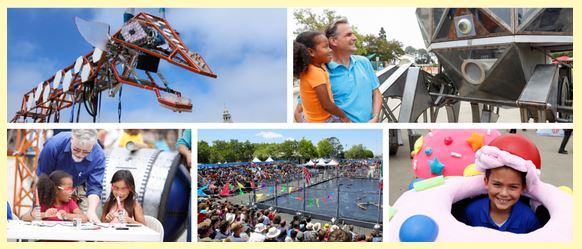 Maker Faire is coming to San Diego on the 3rd and 4th of October! What is Maker Faire you ask? Just the most coolest, happening event in the history of the city. And you think I am bending the truth a bit?… NOT!
The Faire will have fire breathing dragons, and giant robots, and slime, and battle ship competitions… and the list goes on. Most of the museums in Balboa Park will be joining with indoor activities, and then there will be outdoor events throughout the day. And from the folks at the Faire:
Maker Faire is a celebration of all kinds of amazing people who make all kinds of amazing things and can show you how to make it too! Makers range from tech enthusiasts to crafters to scientists to artisans to garage tinkerers. They are of all ages and backgrounds and all of them are working on something spectacular. Come see what's being made in our region!
http://sdmakerfaire.org/
I know the Miramar Air Show is in town and I would suggest you also see that, but save a day for the Faire, and I will see you there!
BTW: It is not just for kids… there will plenty of adult activities, and beer, and food, and the fun starts 10:00 am.